Fonts, Labels, Controls and More
With over 137 additional features, actions, effects and hackable options, Buildbox is one of the most advanced game development platforms. From the intuitive creator tool and multiple worlds feature to the custom fonts and control system, you can now do so much more with your game.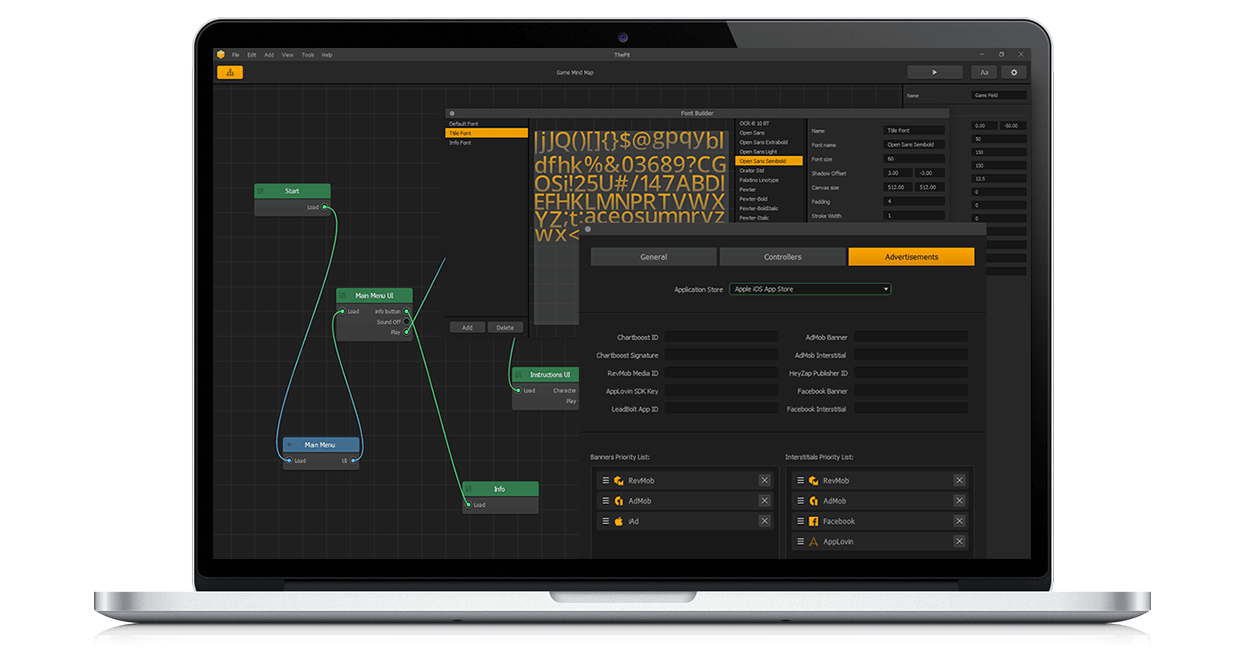 Custom Fonts
Use the font builder within Buildbox to create custom fonts to use in your game. Create in-game labels, text for when you pick up coins, display your total coin amount or score. You now have the option to use multiple fonts throughout your entire game.
All of the fonts available are all fonts already installed on your computer, choose any new fonts and just install them as you normally would on your computer and they will also appear in the font editor.
Change the color, adjust the size, add shadows, and customize gradient and much more.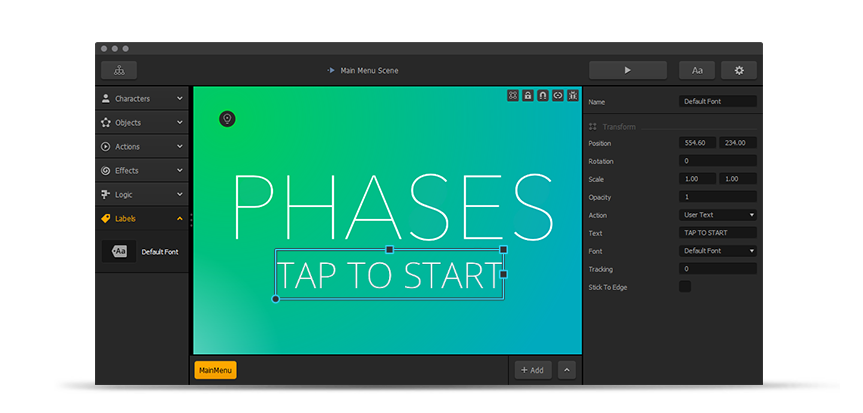 In-Game Labels
With Buildbox you have the ability to create in-game labels. These labels can be hidden and button activated or like Minecraft it can be permanently displayed within your game's world. Enhance your gameplay and overall player's experience in multiple ways. Use labels to guide players through a complex level, provide a hint or two, or as a tutorial to show users how to play the game or in entertaining cut scenes.
Key & Controller Mapping
Take control of your controls in Buildbox with our easy to use key and controller mapping features. You add joystick support to give your app a classic arcade feel. Quickly integrate multiple action buttons to enable shooting or melee attacks. Create a game that uses swipe controls or one with a sliding feature where players can simply tap and hold to slide. With our mapping options you can make your player's gaming experience exciting and fun.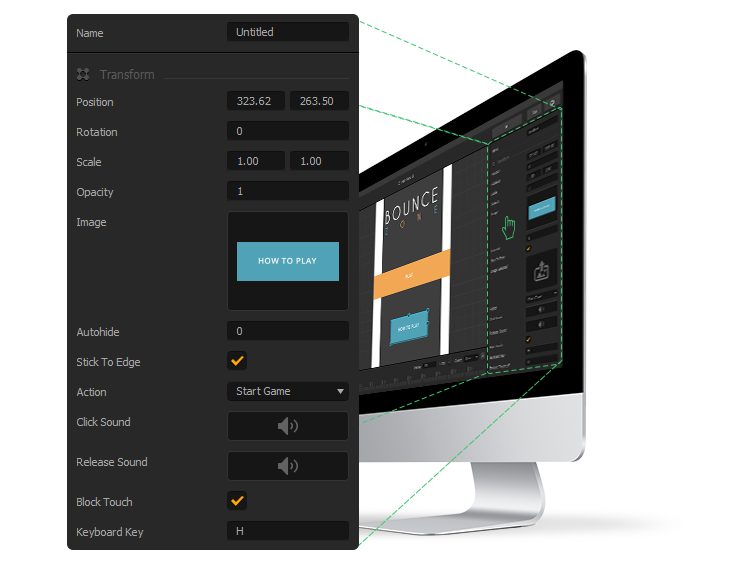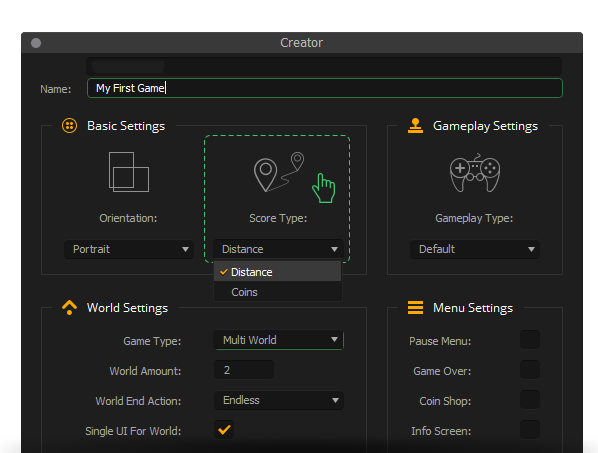 Multiple Score Types
Challenge your players and boost replay value with multiple score types. Set up your game to automatically keep track of multiple scores. Your player can collect coins and objects for points. You can also adjust the settings to determine how many points will be earned for each item. The scoring system in Buildbox enables countdown timers, distance and more.
Auto-orientation
To make it easier to get started creating your first game we have auto-orientation. This feature chooses your game's layout for you so you can skip ahead to the fun stuff – building out levels. Based on your chosen gameplay preset, auto-orientation will automatically select the best orientation for your game. However, if you don't need the guidance you can change your layout however you wish.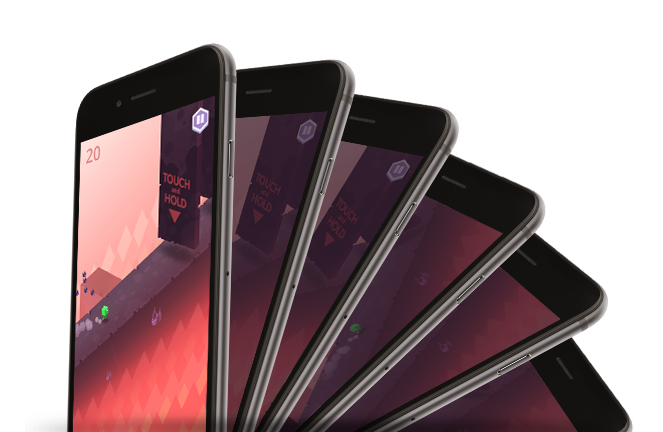 Much more
With your purchase of Buildbox 2.0, you get all of the developer tools you need to make amazing games. Our easy to use drag and drop software allows anyone to jump right in and start creating without prior coding or technical skills. There's no limit to what you can do with this powerful game builder. Animate menus or create complete cut scenes. Use the advanced particle creator to make really cool special effects from scratch. You also have full control of the game flow with our simple to use menu node based system. There's joystick and Apple TV support, a layer browser, one click export options and much more.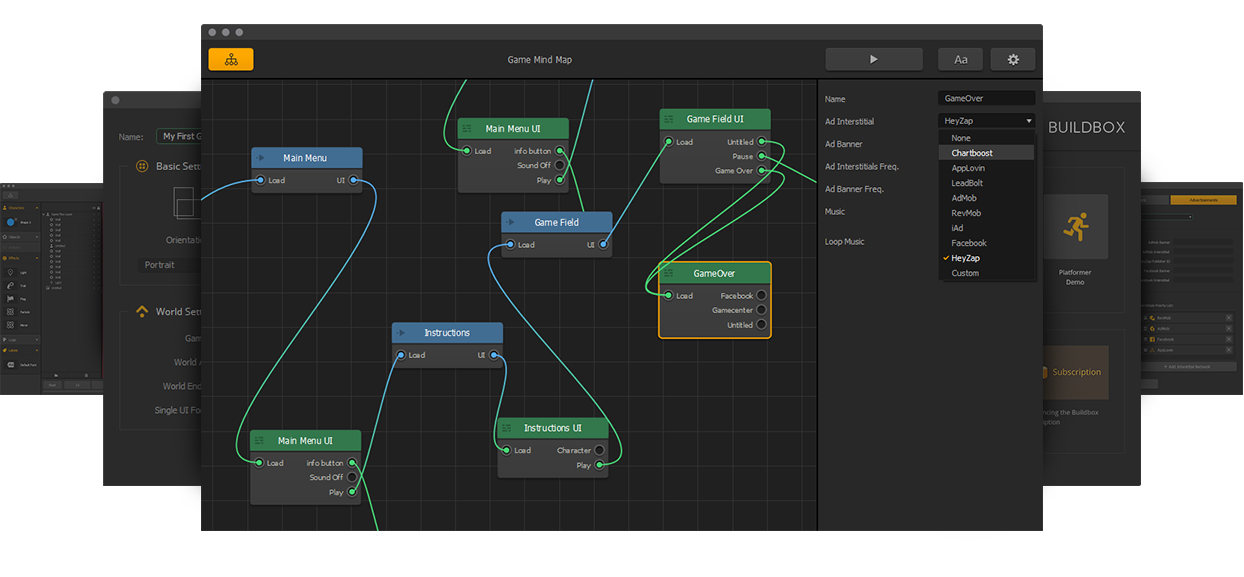 Buildbox is used by the best game makers. Are you ready to join them?