From the creator tool to the scene editor, Buildbox 2.0 makes it easy to create amazing games faster than ever. Start out building levels and put in the graphics later or take your time building out each individual scene. Scenes are levels. At any time you can hit play and immediately get a feel for your game.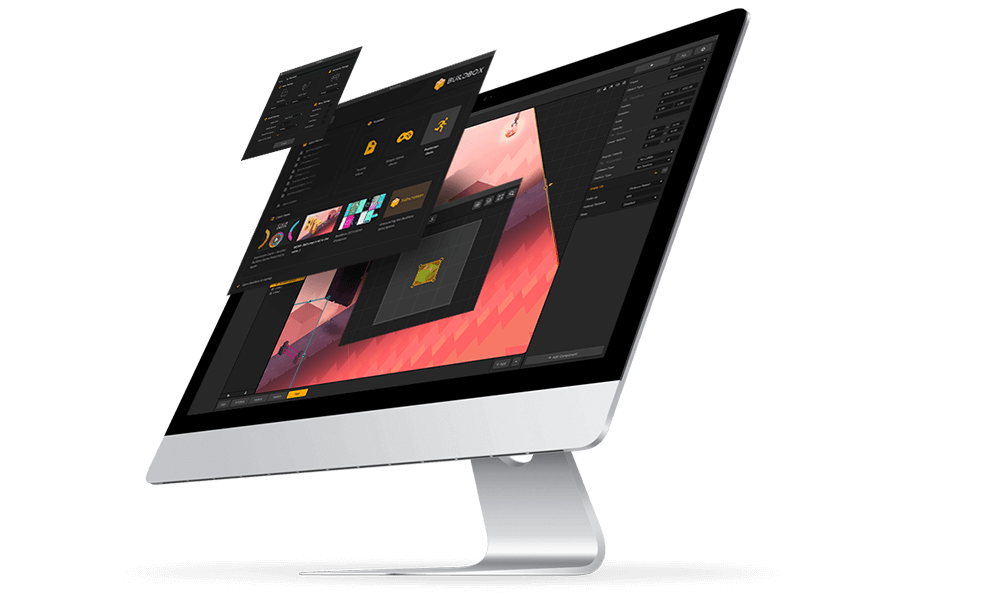 Creator
To keep things simple – we added the creator tool. The creator allows you to pick and choose the variables, create a skeleton of your game, and it instantly inserts placeholders to help you get started. This tool automatically sets up everything for you. You'll have access to a visual map of your game, from the start screen menu and gameplay levels to the game over screen. From within the creator you're able to double click on a particular screen to open it for editing or reroute the order of your game however you want.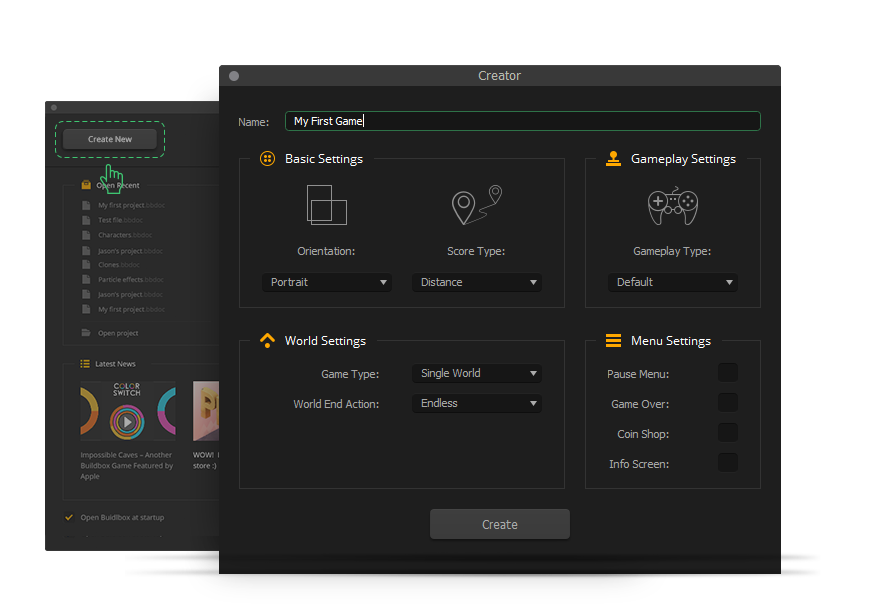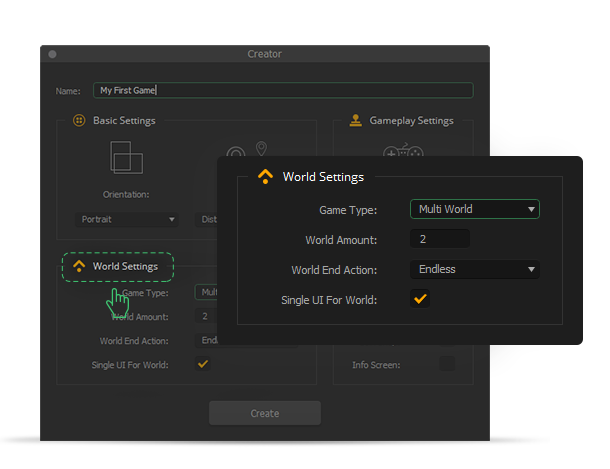 World Settings
Unleash your imagination and expand your game's possibilities with multiple world settings. Create single or multiple worlds within your game. Choose what happens when your player reaches the end of each world. Select the 'Endless' option for multiple worlds that are endless similar to Doodle Jump. Use the 'Next World' option for your game to play more like the original Super Mario Bros. with players taken to the next available world or add a 'World Select' setting so players are sent to a level select screen like Angry Birds. There's also an 'End Scene' option which lets you add a special cut scene at the end of each level like in Super Meat Boy.
Character Settings
Different types of animations and effects can be easily added to your character with Buildbox. Edit the hit zone or collision shape of your character. Make them shoot, move or jump in a special way. Add different sounds for your character's action like jumping, shooting, or a ground collision sound for when the character hits the ground. Gameplay effects can be attached to a character also. Choose Shadow to add a light effect on your character like in our game Phases or add the Auto Tilt option to make the camera shake when a character is defeated.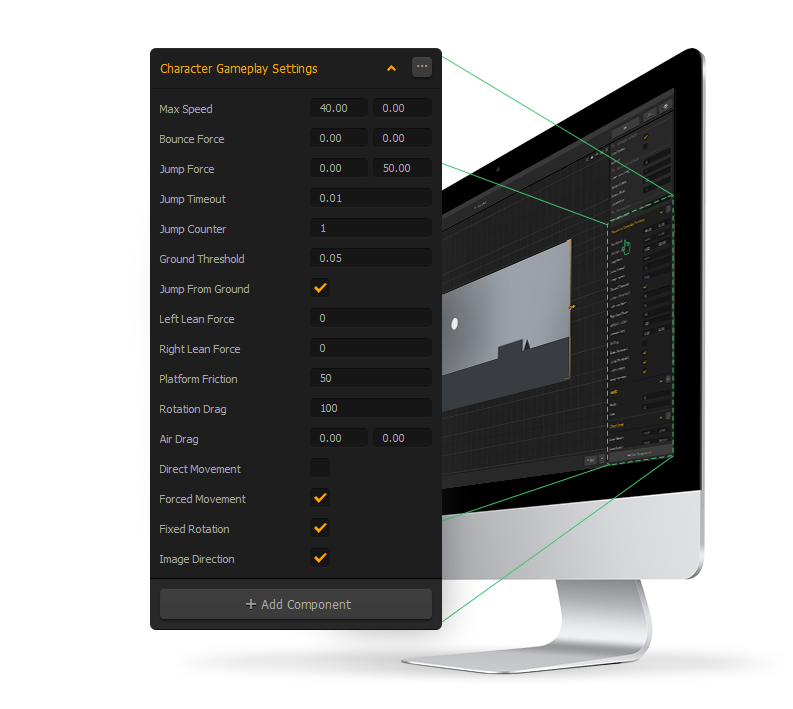 Multiple Character Settings
Buildbox 2.0 features multiple character support. This option allows you to add multiple characters into your game and control how players interact with them. Each character can have unique powers and abilities by setting the desired options in the character gameplay settings. Choose how to unlock the character, if it's going to be available for free or with in-game currency and different movement effects. Create multiple characters that flap like a bird or move across the screen similar to a helicopter. There are no limitations on what you can do.
Gameplay Types
For gameplay types we have dozens of different presets available. You can quickly make classic gameplay styles such as platformers, running, space shooter, jumping, flappy, dogfight and racing. Or you can make more interactive complex game types. Choose isometric gameplay types like seen in the hit game Crossy Roads to the tap to slide style featured in The Pit. Each of the presets will change all of physics properties inside of your world and the settings for your character automatically.

Scene Editor
In the scene editor we have place holder graphics based on your set gameplay style. It's kept extremely simple with nothing more than a character, a platform, a single enemy, and a particle effect for good measure. The place holders make it easy to quickly add or duplicate items and build out your scene however you wish. The outliner option enables you to view all of your game's layers, hide them, lock into place, or group and rearrange.
We also added an auto-depth sorting feature to automatically sort out any depth issues when you're creating more complex games. Buildbox is all about expandability. We set out to create a software that was not only easy but would enable anyone to make a wide variety of games, from simple and casual to complex.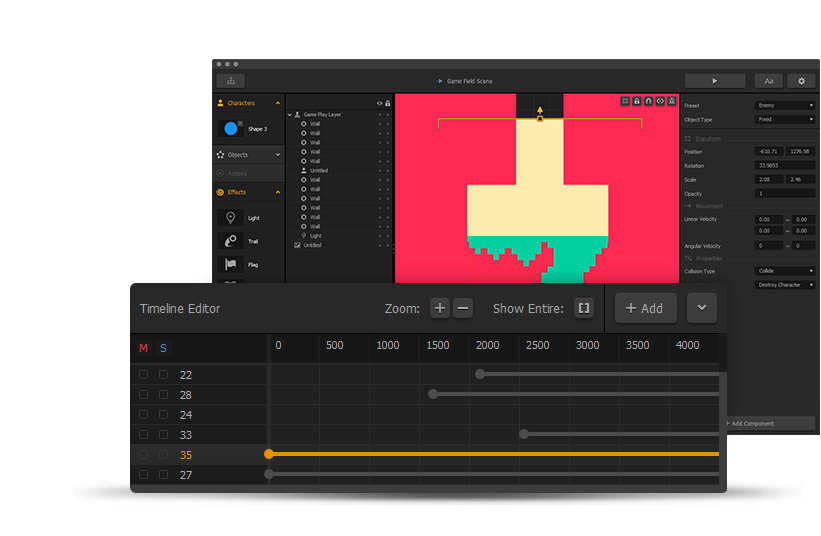 Object Types
Each object has a wide variation of properties that you can change. Any object, regardless if it's an enemy, platform or even decoration, can be set to move automatically.
Simply drag and drop your PNG animation sequence into the object side menu bar. You can also choose a linear velocity and make the object move left, right, up and down, or angular velocity to make it move in a circular motion.
Adjust the settings to make enemies move, platforms rotate or boxes fall from the sky. To take it a step further, you can determine when this object will "wake up" and start to move. Set an object to only start moving when a character collides into it or have it wait until the character reaches a certain distance. With Buildbox you can have hundreds of objects on screen following their own set paths while interacting with your character to make a game that's uniquely yours.
Debug Mode
Buildbox includes all the developer tools you'll need to not only make games, but make outstanding games. By clicking on the small bug icon on the Scene Editor, you'll enter the debug mode and have full view of all of the collision shapes of your objects. This collision viewpoint enables you to see the skeleton of your game. Using this view you'll be able to easily make sure your gameplay runs smooth and there are no unnecessary bumps or transitions your player might endure while playing.
There's also a live Game Preview mode that displays your final game in real-time. When you make a change you can instantly see what it will look like to an actual player. The debug mode is accessible through your game preview so you can easily trouble shoot an area where your character might get stuck.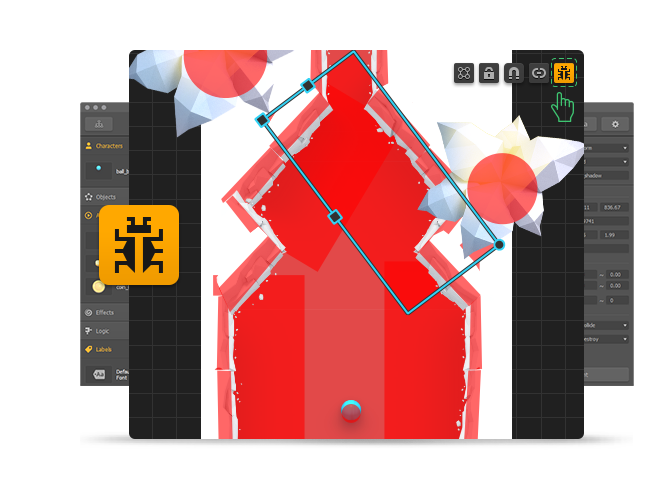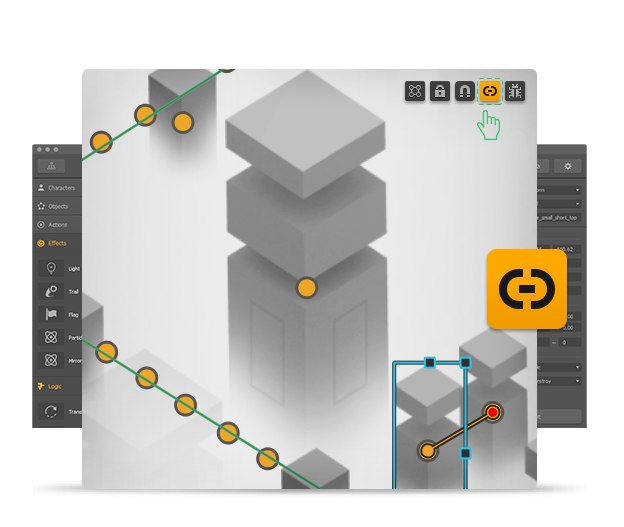 Connections
Create custom vehicles, death-defying obstacles, rotating platforms, sequenced enemy attacks and much more using connections. By clicking on the toggle switch, located in the scene editor you can enter connection mode. When you're in connection mode you can easily connect objects together. These objects will now be linked together and can be moved as one or duplicated as a group.
While groups is an essential feature of Buildbox, we wanted to take connections farther, and let you determine how they'll actually move and interact in your game as well. So, we also added in motors and pivots.
Adding a motor to any connection is easy. Click the connection line and choose what speed and torque the connection will have. You can also enable it so that particular object only turns when a button is pushed. Now you can easily connect wheels to characters, enemies and objects and have them collide and move with the real world physics, or simply create swinging axe that moves in circles. The possibilities are really limitless.
Buildbox is used by the best game makers. Are you ready to join them?
Relevant BuildBox Tutorials