With the release of Buildbox Free, there will be new pricing options. Here's an update on some of the upcoming changes. Starting on December 18th, the option to sign up for any of our previous plans will no longer be available. This means any new signups or plan switches will be based solely on our new pricing tier. If you're currently a paid monthly or yearly subscriber and want to keep the plan you have now, you can. Nothing will change for you. We'll continue to honor all prior subscriptions at their set rate.
New Pricing Plans For Buildbox
Buildbox Free – (FREE)

Buildbox Pro – ($59 per month / $499 per year)
We've decided to keep things simple and will only be offering two plans: Buildbox Free and Buildbox Pro. You have the choice of monthly or annual payments with the Buildbox Pro plan priced at $59 per month or $499 per year. We're also bringing back annual contracts, so all plans, including the monthly option, will be set on a 12-month yearly contract, which you can later choose to renew or opt-out.
Buildbox Free And Buildbox Pro 
Buildbox Free is a lighter version of the Pro plan. This means there are some limitations. With Buildbox Free, you'll be able to integrate only two popular Ad Networks: AdMob and IronSource, with a 10% or less cut taken from each. There is a one-world limitation. Plus, your game's splash screens will feature the BB logo, which cannot be removed. Also, export is limited to only iOS and Android. 
However, with the Buildbox Pro plan, you have access to all the options. You'll have the ability to build unlimited worlds, scenes, export to both mobile and desktop platforms, and fully customize your game's splash screen and monetization.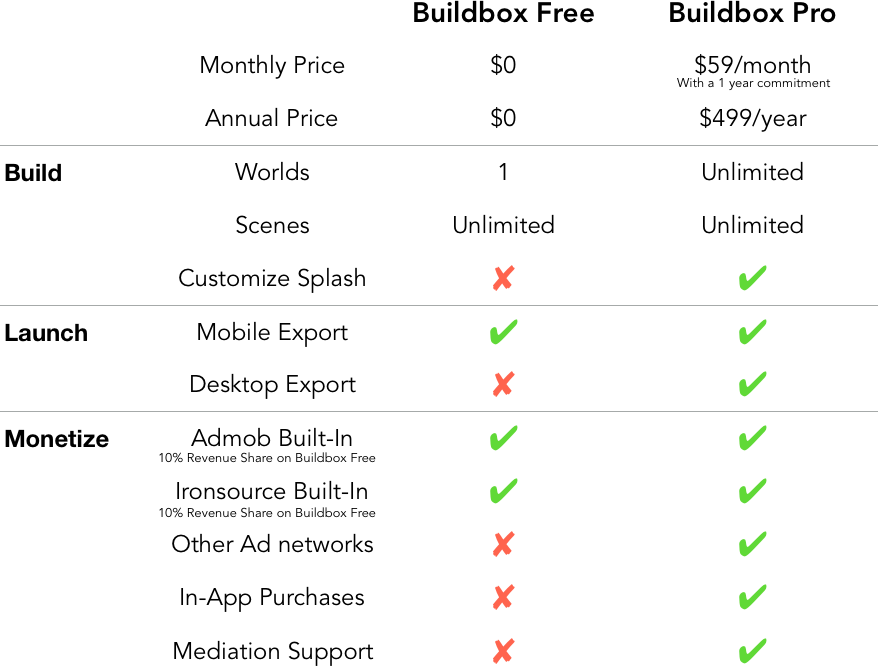 Each plan gives you full access to our software's incredible game building features, including our new no-code game-changer, brainboxes. With it, you can easily add 'brains' or behaviors to any image or 3D model in seconds without writing a single line of code. There's also the ability to create 2D and 3D worlds and over 100 preloaded assets to help you quickly build out your game. Add popular gameplay mechanics instantly with our smart asset templates and even add advanced logic to any object or character via nodes. You can view current plans right here.
If you have any questions about our new pricing plans or your options, please contact our support team at support@buildbox.com.